About the Author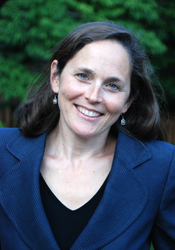 Carole Sonnenfeld Geithner has over 20 years of experience as a clinical social worker in schools, hospitals, counseling agencies, and private practice with children, teens, and adults, many of whom had childhoods shaped by significant loss. As an Assistant Clinical Professor of Psychiatry and Behavioral Sciences at George Washington University's School of Medicine, she taught listening skills to medical students.
Carole grew up in Princeton, NJ and has lived in Washington D.C., NY, France, and Japan. Her mother, Portia Sonnenfeld, died when Carole was twenty-five. She is married to Timothy Geithner and has two adult children. Carole currently serves on the boards of Option B.org, Kids In Need of Defense (KIND), Sun Valley Writer's Conference, SLAP'd.com (Surviving Loss After Death of a Parent), and sits on the clinical task force at Gilda's Club Westchester. She also leads Writing to Heal workshops at the Bereavement Center of Westchester. This is her first novel.
---
Here is a short TV interview with Carole and Chris Wallace.